I ran across this quote in the
Hartford Courant
today:

Democratic State Chairwoman Nancy DiNardo said that the Republican Party's ethical issues in Washington will translate to the local level.

"When you have a White House and a Congress with Republicans under investigation - I think a lot of people are fed up and are leaning Democrat because of that," she said. (Puleo)

We'll see about that, but I doubt it. Local elections are, well,
local
. When voters go to the polls on Tuesday, their minds will be more on issues like road repair, school budgets and property taxes than on corruption in distant Washington.
That being said, will we see any kind of swing? Let's take a quick look at the municipal map: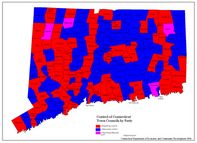 This is how control of town councils currently shakes out. Pretty splotchy. It's nothing like the elegant state representatives map from a year later, which is the next tier up the election ladder:
And yet, if you look closely, there are trends here. There's a general clumping of Republican towns in the western part of the state, out in Litchfield and Fairfield Counties (except for major urban areas along the Fairfield County coast). Hartford and New Haven Counties are heavily Democratic, as is a sizable chunk of the eastern half of the state.
The extreme southeast, down around the Stoningtons, is a Republican stronghold, as is the mouth of the Connecticut River (Old Saybrook, Old Lyme). The Farmington Valley is a narrow ribbon of Republican control in the town council map, and is part of a large Republican swath on the state representative map.
Both show the feature of the Democratic Doughnut, which shows a big loop of Democratic control around the Republican towns of Glastonbury, Marlborough, Hebron, etc.
If you look at the Presidential map, you'll see ghosts of the same trends:
There's the Democratic east, center, and southwestern coastline, and the Republican heartland in Fairfield and Litchfield counties. You'll also see the faintest outline of the Doughnut, in the form of a softer area of support for Kerry centered on Marlborough surrounded by an area of much stronger support.
It's pretty clear, then, that a significant percentage of the people who vote for a certain party in local elections vote for that party in national and state ones, too. It's less clear what percentage that is, and just how important local elections can be for state and congressional contests next year.
If there is a big Democratic shift in Republican areas like inner Fairfield and Litchfield counties, or in the Farmington Valley, then there's a good possibility that a few of the more marginal Republican state reps in those areas are in trouble. If, on the other hand, the Republicans take a lot of towns in the Connecticut Valley and eat away at the Doughnut, then some of the less secure Democrats in those areas could find themselves in trouble next year.
In general, however, local elections seem to be more about personality, connections in town and local issues than about big national or state trends. So Nancy DiNardo may wake up Wednesday to a Connecticut with more towns under Republican control, and still feel relatively secure about her party's chances next year.
Source
Puleo, Tom. "
Tuesday: Decision Day, Local Style
."
Hartford Courant
6 November, 2005.
(I recommend reading this article anyway: there are some nice insights)