Democrat for State Representative--61st House District
(
part of an occasional series
)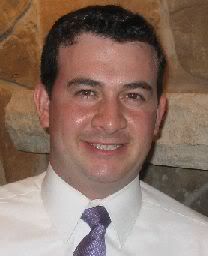 Before my meeting with Democratic 61st House District candidate Derek Donnelly (
left
), I spent some time wondering what, exactly, a man who ran for State Representative at 25—especially one challenging a longtime incumbent—would be like. Donnelly, when he appeared, didn't disappoint: he's a big, gregarious guy with a seemingly limitless supply of energy and drive.
Donnelly has been around politics all his life. His mother is a deputy registrar of voters in Suffield, and his father is on the zoning board. He didn't get on his current political path until college, however. He was a member of the VROTC, and was looking to officially join up when he fell sick during a trip to London. He decided to wait a semester, after which he was told that they had run out of commissions (something, he tells me, that doesn't happen today). After that, he says, his sense of duty prompted him to look for other ways to serve his country. This eventually led him to politics where, as a student at James Madison University in Virginia, he interned on Capitol Hill, volunteered for Mark Warner, worked for former House Minority Leader Dick Gephardt and then ran an unsuccessful but engaging municipal campaign in his college town. After Donnelly graduated college in 2002, he began going to UCONN Law School part time, and working for other politicians. He eventually ended up working for Joe Lieberman's presidential campaign, and then for Eddie Perez in Hartford as a legislative aide.
He was encouraged to get involved locally, which led him back to Suffield, where he has been active in Democratic politics. In 2003, he began to be mentioned in conversations about the 61st House seat, held by Republican Ruth C. Fahrbach and encompassing all of Suffield, and parts of East Granby and Windsor. He recalls that the conversations centered on the fact that "…it stinks that no one runs against Fahrbach," which up to that point had been essentially true. Fahrbach has held her seat since 1980, but has rarely had a serious challenger. Donnelly decided against running in 2004, mainly because he "wanted to gain more perspective," and he wanted to graduate law school first (he'll do that this spring). Fahrbach won in 2004 without a Democratic opponent (a Working Families candidate won 9% of the vote). Donnelly decided he was ready for 2006, and has been planning his run, with the support of the Suffield Democratic Town Committee, since last August. He formed an exploratory committee, which has so far raised over $9,000 (remarkable considering the average State Rep. challenger in 2004 raised only $6,000 total), and is planning on forming a campaign committee this week. He will officially announce his candidacy in April.
Donnelly isn't daunted by running in a heavily Republican district, and strongly believes that he can win. For one thing, he says, Suffield (where the majority of the district is) has changed a lot in recent years. The population has exploded, and younger families who might be more receptive to a Democratic candidacy are moving in. As proof, he cites the race for first selectman in 2005, which the Democratic candidate lost by only 150 votes (Donnelly himself was elected an alternate for the board of finance). He also points to Windsor, which trends Democratic, and the fact that the portion of East Granby in his district is very small—he'll be able to meet almost everyone there. He says that the campaign will be a lot of hard work, but he believes that he'll win in the end.
Donnelly takes a pragmatic approach to issues. He says he'll work for property tax reform if elected, and believes that the elimination of the car tax as proposed by the governor is a "good start." He believes that regionalization of some services, such as human resources boards, can also help towns to save money, thereby lessening the tax burden on citizens. He says he doesn't want to see an end to municipal control, but that cooperation between towns will help keep taxes at manageable levels. He also very much favors reforming the probate court system, a "pre-1965" institution in which he sees a lot of conflicts of interest and inefficiency. The Connecticut state government, he says with a smile, has a lot of problems with efficiency. He believes that campaign finance reform is also a good start, but that loopholes need to be done away with.
He stresses the fact that, as a first-year legislator, he won't be able to fix everything. He also understands the reluctance of the legislature to make big changes, and says that he will focus on "small steps to change, if we're not going to do big things."
Perhaps Donnelly's biggest issue is Fahrbach herself, and what she represents. Fahrbach, he says, is "ineffective." She "doesn't introduce bills," or at least doesn't see the few bills she does introduce passed. She is, he says, famous for knitting on the House floor. He cites the fact that Fahrbach is on the powerful appropriations committee, but that Suffield, the major town in her district, is 168th out of 169 towns in municipal aid. "Suffield," he says, "Doesn't have a legislator who is there."
Donnelly is planning an aggressive, youth-oriented campaign. He has gone to colleges to talk with students there and recruit volunteers, and is planning on establishing a significant web presence. His main site will be interesting and interactive, he promises, and he will make use of a campaign blog to give campaign updates and answer questions. He will also explore nontraditional tools such as MySpace and Friendster to reach out to younger voters. He wants to take cues from the success of Howard Dean, and establish an email list. He is planning on having his website up by March.
Derek Donnelly is an energetic, focused and extremely knowledgeable young man who seems determined to succeed in his race. It's refreshing.
Donnelly's website will be at www.electdonnelly.com and he can be contacted at electdonnelly[at]gmail.com.