83rd House District to replace Abrams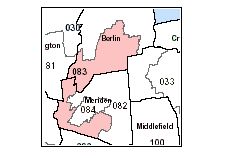 83rd District
On Tuesday the voters in the 83rd House District will vote for a new state representative, following the resignation of Rep. James Abrams in January.
The candidates are Democrat Catherine Abercrombie and Republican Robert Clermont, who has served on the Meriden city council for four years. Abercrombie has never held public office before, although she has been involved with several citywide institutions.
Both candidates are from Meriden.
The 83rd district was not contested by a Republican in 2004. Abrams, who has served in the House since 1994, said his resignation was because of a desire to return to private life, but there have been rumors that he wants to be a state judge.
Abrams was a member of the committee considering the impeachment of Gov. Rowland last year.
So what's going to happen? The 83rd District is in towns that are usually reliably Democratic, but traditionally low turnout means that special elections can get pretty wacky. The weather is another factor. Tomorrow's predicted snowstorm may keep even the most stubborn of voters away from the polls. There are 13,000 registered voters in the district: the election may draw less than a thousand.
In short, anyone could win. Meriden and Berlin's usual voting habits suggest that the seat will stay Democratic, but in a special election with no incumbent, anything can happen. I'll post returns as soon as they become available.
Sources
:
"Balloting To Fill Vacant House Seat"
.
Hartford Courant
26 February 2005.
"State Representative to Step Down Wednesday".
Associated Press
4 January 2005.