There is very little election news to report. Governor Rell is going to release her budget this week, Michael Ross is still alive, nothing new in the Newton case... This is a perfect time to examine some of the unusual town council/board of selectmen compositions in Connecticut.
Let's start with the map.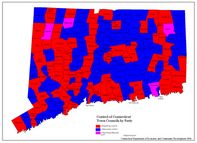 Note the four towns in purple. These towns are controlled by neither Republicans or Democrats, but by some combination of the two major parties and a minor party. In these cases, the minor party has split the government in ways not usually seen in this country.
Cornwall
: Cornwall, Litchfield County, is not a typical Northwest Corner town. It is surprisingly liberal-leaning. It is the only town west of the Connecticut Valley (excluding Bridgeport) to have voted for Bill Curry in 2002, and very definitively went for Kerry last year. Cornwall voted 2-1 for Democrat Roberta Willis over Republican Michael Lynch for state rep., but was faced with no Democrat to vote for for state senate.
Cornwall is one of only a very few towns in the state with a member of the Green Party on its legislative board (I know New Haven has one, too). In fact, the board is split three ways. Gordon M. Ridgway (D) is the First Selectman, while Kenneth C. Baird (R) and Kenneth E. Kreskinen (G) are the others on the three-person board. I imagine that Mr. Kreskinen, who was elected in 2003, votes with Mr. Ridgeway more often than not, but it's a fascinating situation. I wonder if it will hold up this year.
Pomfret
: Pomfret is in much the same situation as Cornwall, except that its odd man out is John Bala, an independent. Mr. Bala placed second to the current first selectman, Republican David I. Patenaude, in the 2003 election. Pomfret may be one of many towns with a clause that specifies that whoever finishes second in the election for first selectman gets a place on the board. This guarantees minority representation, although it seems to have backfired somewhat here.
Waterford
: I really shouldn't include this town, because it appears that first selectman Paul B. Eccard, who the Secretary of the State's site says is a member of the "Waterford Independent" party, was cross-endorsed by the Republicans in 2003. I'm really not sure whether he's a Republican or WI first; both are possible. Still, the listing is interesting, and WI is one example of town-specific minor parties (such as the [your town here] Taxpayer's Party).
Winchester
: Check this out:
Selectmen: 1st, Maryann D. Welcome (D), David A. Cappabianca (R), Lynda E. Colavecchio (R), Paul James O'Meara (I), Althea Candy Perez (D), Marie A. Prelli (R), Barbara Wilkes (I)
Three Republicans, two Democrats and two Independents sit on Winchester's board of selectmen. The Independents voted with the Democrats when it came time for the board to choose its leader, making Democrat Maryann Welcome mayor.
It's a minority government! We see these so rarely outside parliamentary systems. Let's see if it can survive the November elections, shall we?
It is interesting to see how minor parties/independents can have such an effect on municipal politics. The small playing field tends to equalize the candidates in terms of money and name recognition in a way that is impossible to replicate on a larger scale. We will see if any of these legislative oddities survive past November, or if some new ones are born.